Empower Kids to Care About Teeth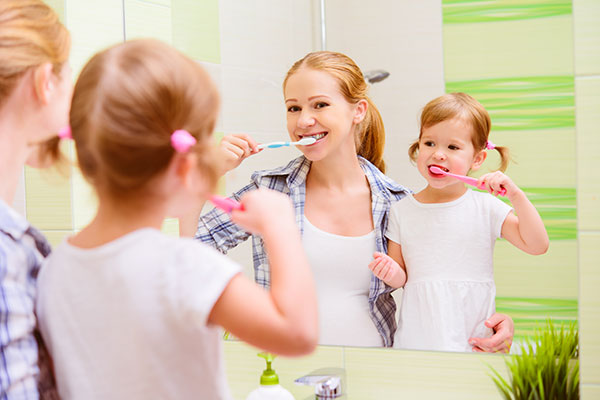 Getting your kids to care about their own dental health is one of the best things you can do to protect them from tooth decay. But believe us, we know how hard it can be to get your little ones to be enthusiastic about brushing their teeth. Here at Arlington Pediatric Dentistry, your child's smile is our passion, so here are a few helpful tips and tricks to get you and your kids on the path to healthier teeth.


Let Kids Choose Their Own Brush

It may sound silly, but one of the simplest ways to get your child excited about brushing their teeth is to let them choose their own toothbrush. Letting your child feel like they have some control over things is always helpful, so take them to the store and let them pick out a brush! Kids have sensitive teeth and gums, so just make sure that whatever brush they decide on has a small head and extra soft bristles.


During your first appointment, Dr. Justin Smith can show you the proper brushing technique for your infant or toddler. As the child grows older, we will show them the proper technique as well. Our goal is to make education fun and enjoyable, which helps your child establish better oral hygiene habits.


Be a Good Example

You've probably already figured this out, but kids love to copy what you do. You act as their model for what a person should do, so use this to your advantage! Make sure to brush and floss your own teeth regularly, and let your children watch. You can even make it into a game, letting them "mirror" you with their own brush.


Turn Brushing Into a Game

No matter how old you are, the American Dental Association recommends brushing your teeth twice a day, and for at least two minutes. But the longer you brush, the more plaque you're removing from your teeth. Try turning toothbrush time into a game for your kids to help them reach that two minutes or longer!

One thing you can do is to encourage kids to brush while they're watching TV, during a commercial break. Tell them to focus on one section of their teeth for each 30 second commercial, and, by the time the show is back on, they'll be all done! Pretty simple and painless, with the added bonus of distracting your child.

You can also sing songs or read a short section of a book while your child brushes his or her teeth. Keeping your kiddo's mind occupied during the brushing helps them from getting bored, and the two minutes fly by so much faster! You can also get apps for your smartphone that connect to your child's electric toothbrush and plays music from your library during their brushing.


Flossing is equally as important as brushing, yet many children still struggle to do it every day. Flossing is an effective way to remove food debris and bacteria from in between the teeth. It is also the best way to prevent gum disease.


With so many brands on the market, it can be tough to choose the right toothpaste for your child. You may be tempted to just pick the first one that catches your eye, under the assumption that they're mostly all the same. But it's important to find the right one that will properly clean your child's teeth without damaging them. We at Arlington Pediatric Dentistry are here to help, so here are a few simple tips for selecting the right toothpaste for you!


Make Sure They Eat Healthy

As always, the best work you can do for dental hygiene is preventative. Teach your kids early to eat healthy foods like fruits and veggies instead of sugars that will cause damage to their enamel. Even fruit juice is loaded full of acids and sugars that can damage their teeth, and make sure to particularly limit your child's soda intake. Also, try to avoid brushing right after drinking soda, as the enamel can be softened for up to an hour afterwards.

It's never too early to start thinking about your child's dental health. We at Arlington Pediatric Dentistry are committed to giving your little one a healthy and confident smile for the rest of their life, so give us a call at 360-657-1650 to set up your appointment today!