Tips for Brushing

Arlington, WA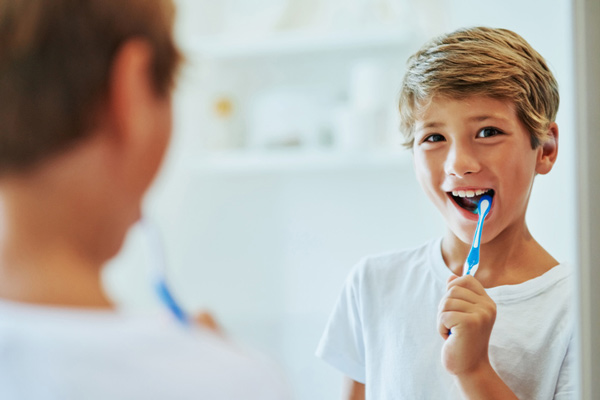 Getting a child to brush their teeth can be quite an ordeal, trust us, we know. But keeping to a regular schedule of brushing and flossing is the single most important thing you can do for your child's dental health. Here at Arlington Pediatric Dentistry, we care about your child's teeth, so here are a few tips and tricks to get kids to brush their teeth.


Choose the Right Toothbrush

It's important to make sure your child is using the right toothbrush for them. An adult toothbrush can be too large to fit in a child's mouth comfortably, and the bristles may be too rough for their teeth. Make sure you find a toothbrush with a small head and extra soft bristles to take care of your little one's sensitive teeth and gums. Also, it can be helpful to let your child choose their own brush at the store. Letting him or her be involved in the decision making process helps them be more enthusiastic about taking care of their teeth.


Holding the Toothbrush

Young children can sometimes have trouble holding on to the handle of their toothbrush. Typically, children's toothbrushes have thicker handles so they're easier to grasp, but if your child is still having trouble, try cutting a hole in a tennis ball and putting the handle of the toothbrush inside. You can also use Velcro straps to keep the brush attached to your little one's hand.


Choose the Right Toothpaste

Aside from the right brush, it's also important to make sure you're using the best possible toothpaste for your child. Make sure you buy something that has fluoride in it, to help protect and whiten your kiddo's teeth. Many adult toothpastes have flavors that are too strong or too bitter for children, so make sure you find a flavor that they like. Buy two or three different flavors at the store and let your child decide on the one they like best.

For young children, you should make sure to place the toothpaste on the brush yourself to ensure they're using the right amount. For children under three, place only a small smear of toothpaste, not much larger than a grain of rice. For kids ages three to six, only a pea sized amount is required.


Make Sure to Spit!

Fluoride toothpaste is meant to be swished around the mouth, but not swallowed, so make sure your child knows to spit into the sink after they're finished brushing. This is especially important for young children, who may be more inclined to swallow the sweet tasting toothpaste. If your child needs help or is unable to spit on their own, just help them tilt their head down and let the toothpaste dribble into the sink or onto a washcloth. With older kids, just make sure to tell them to spit when they're done!


Make a Routine

Kids tend to respond well to routine, so make sure to set up a schedule for brushing their teeth. It's especially helpful if you have them brush at the same times every day to make sure they don't forget. You can even make a chart and make a little game out of it, offering some reward like a treat or a little toy for 14 check marks in a row!

Although they may not enjoy it, regular brushing is essential to your child's dental health now and throughout their lives. We here at Arlington Pediatric Dentistry are here for you, so feel free to give us a call at 360-657-1650 if you have any questions, or to set up an appointment for your child!