Lap Exam - Up To Age 2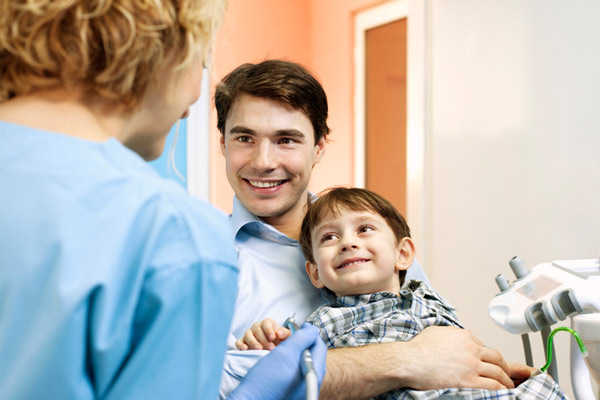 The time between the first and second year of a child's life is crucial for their development, and that's just as true when it comes to dental health. Here at Arlington Pediatric Dentistry, we're proud to be your child's first stop on the path to a beautiful adult smile. Here's a little information on how to best take care of your toddler's teeth in their first couple years.


Why Are Initial Visits So Important?

It may seem a little silly to make such a big fuss over your child's baby teeth. After all, they're just going to fall out, right? But baby teeth actually serve a vital function in the development of your kiddo's smile. Not only do they help your child learn to bite, chew, and talk, but they also act to "save" a spot in the mouth for his or her adult teeth. Our adult teeth are there as soon as we're born, but they aren't fully formed. The baby tooth stays in place until the adult tooth underneath is ready, and then it falls out. If your child loses a baby tooth early, due to decay or other damage, then leaving the spot open may cause eruption issues for their permanent teeth.

It's also important to start habits now that your child can follow throughout his or her life. Tooth decay can begin as soon as the first tooth erupts, so regular brushing and dental checkups are necessary to keep everything clean and healthy! And if you get your little one used to doing these things now, they'll be ready when the time comes to take care of their own dental health. The American Dental Association and the American Academy of Pediatric Dentistry both recommend that your child should see a pediatric dentist when the first tooth appears, or no later than his/her first birthday.


Later Visits

After your baby's first visit, it is recommended that you continue to bring them in once every six months. Each of these visits will likely be relatively short - we like to focus on getting to know you and your family, answering questions you might have, and performing examinations of your child's teeth to make sure everything comes in the way it's supposed to. Remember, it's better to spot any possible problems before they occur, so keep up with your appointments! It could be the difference between a small fix now and extensive orthodontics later.


Preparing For a Visit

Our pediatric specialists are specially trained to handle squirmy kids and tantrums - don't worry, we've seen it all! There are also a few simple things you can do to get your child ready. The first is to make sure you stay calm yourself. Kids are amazing at picking up emotional vibes, so if you're feeling anxious about the appointment, so will they! Just stay relaxed and make sure they know there's nothing to worry about.

It can also be helpful to schedule your appointments early in the morning. As you've probably already discovered on your own, well-rested children tend to be more responsive and less nervous! You can even try making a game of it or singing songs!

At Arlington Pediatric Dentistry, we're fully committed to you and your child's dental health. If you want to ask us anything, or if you'd like to set up an appointment, just give us a call at 360-657-1650.